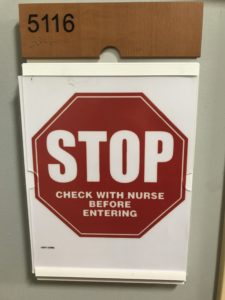 This blog post is half public service announcement, and half spiritual expose. It's about poop and knocking on death's door. And it's ultimately about how we need to treasure every breath we take because we never know if it will be our last one.
I recently spent a week in isolation in the hospital battling sepsis and the deadly super bug Clostridum difficile (C. diff). This is an important story for me to tell, because it just may save your life.
The official narrative has always been that girls don't poop. So you can imagine my discomfort with the past seven weeks of my life being all about poop—potentially deadly poop. Seven weeks ago, while I was on antibiotics for a sinus infection, I had a routine colonoscopy in the hospital. Four days later diarrhea started, along with piercing abdominal pain. My GI doctor ordered a fecal sample and it came back positive for C. diff. I had never heard of this, and I'm sure many of you haven't either. After a couple days on a very expensive 10-day course of antibiotics, I felt better. I thought "C. diff? No big deal." As you will see, I couldn't have been more wrong, because I was one of the 1 in 5 people who have a relapse.
In a nutshell, C. diff is a very resilient evil bastard of an extremely contagious bacterium that is resistant to most antibiotics. It used to be confined to outbreaks amongst elderly people in retirement homes and hospitals, but now more and more cases are being seen in healthy, young people. One common way of getting it is when you are on antibiotics, you kill all the good bacteria in your gut. If you are then exposed to C. diff spores (in a hospital setting, on a grocery cart handle, on a light switch, on a toilet seat…) and then touch your mouth, the C. diff can proliferate and take over your colon because you don't have any of the good bacteria left to keep the C. diff in check. The toxins damage the lining of your gut, causing dangerous swelling of the colon and extreme abdominal pain, fever, diarrhea, and vomiting. This is scary stuff. 29,000 people die of C. diff a year, and 270,000 people die of sepsis each year.
Five days after I finished that first course of antibiotics, I relapsed without warning. It came on fast and hard. In the morning I was running errands feeling healthy and strong, but by evening I was in the ER. I had severe diarrhea and vomiting, along with the most pain I've ever felt, centered in my abdominal area. I couldn't breathe without moaning, and I was delirious with fever. Luckily Eric spoke with my sister Didi, who is an ER nurse, and agreed I should be taken to the emergency room.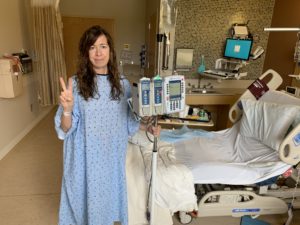 I was admitted to the hospital where I spent a week in isolation. This means I couldn't leave my room (except for a couple CT scans), and anyone who entered had to wear a protective gown and rubber gloves. I don't remember much of that stay. I was on massive doses of three antibiotics, IVs, heparin shots in my belly, anti-nausea drugs, pain drugs and a host of other things I can't recall. I had three doctors on my team, including an infectious disease doctor, and they couldn't get my fever down for four days. My white blood cell count, plasma, platelets, blood pressure, and potassium levels were all low and they couldn't figure out why. I was on so much IV fluid that I GAINED 14 pounds without eating for almost a week (check out this photo of my bloated face, and my toes looked like fat little sausages).
When my fever finally broke, the worry on my doctors' faces finally made it register how serious this was. I could have died. They told me I needed to try to eat, even if it didn't stay down. I could handle a small bit of gelatin, but that's it. They also told me that I needed to try to walk in my room for 5 minutes twice a day. The first time I tried this I failed – my body just wasn't strong enough. But eventually I did it – carting my IV along with me as I paced back and forth in my room. It was only 10 steps from wall to wall, so power walking this was not.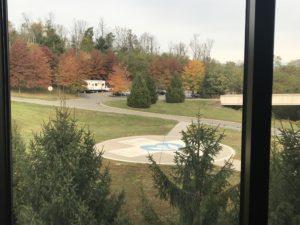 Because I was in isolation, I was put in the cardiac ward because it has single rooms. It is the newest wing of the hospital, so my room was big and beautiful. I was also the only room in the hospital that looked out onto the life-flight landing pad. The helicopter arrived five different times, which was simultaneously super cool and very sad.
I can't sing the praises of the doctors and nurses at Hunterdon Medical Center enough. The level of care I received was phenomenal, consistent and kind. One of the highlights of my stay was the orthopedist who treated me last year for my tibial plateau fracture, Dr. Eric Gordon, got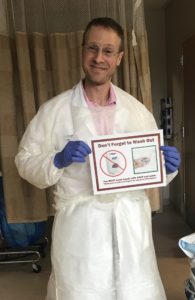 wind of me having C. diff and he visited me two different times. The Chief Medical Officer of the hospital also visited me because my friend Linda is a close mutual friend.
Equally important to the hospital care, I have some powerful healers in my life who were all working on me from afar. Thank you Selena, Dorry, and Lynne for all the healing light you sent my way, and thank you to my family and close friends for all of the prayers. And a very special thank you to Starr Fuentes. Starr is the Curandera in Hot Springs, AR who took me in on my Seeking Shama road trip in 2010-2011. She is the lineage holder for an energy healing technique called Divine Intervention, which she describes as "the loudest, most specific prayer that can call the forces of nature and heaven together hand in hand." When I first met Starr and her shaman husband Art, I was skeptical of their gifts. For good or for bad, I don't follow anything on blind faith. But time and time again Starr demonstrated things that I couldn't explain away. While I was in the hospital, she performed Divine Intervention on me. It was the night my fever peaked, and was one of the most intense experiences of my life. A whirlwind battle between good and evil, with an essence of Starr orchestrating healing peace at the core. When I woke up the next morning, my fever had finally broken. I know without doubt that Starr was instrumental in saving my life.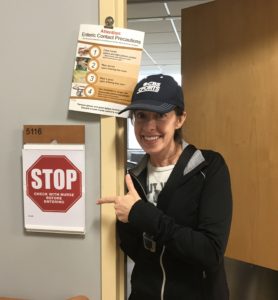 I was released from the hospital 12 days ago. I was weak and pale and my clothes were falling off of me. The weather was miserably grey and pouring rain. Yet all I felt was awe at the magic and beauty of the world. I had (and still have) an intense love for everything – for the good, the bad, the angels walking amongst us and even people who carry with them ugly negativity. Life is a miracle, and while I have it, I'm going to treasure every little inch of it, even the painful parts.
Don't forget to shake yourself out of the haze of your daily routine every once in awhile and open your eyes to marvel at the joyful magic of life. You don't want to be knocking at death's door when you finally realize how very precious your very existence is.
I'm going to be on antibiotics for a couple more weeks, and I'm still pretty weak. Once all that fluid from the IVs was absorbed, it turns out I lost 10 pounds in one week. So now I'm beginning the long process of healing my digestive system; trying to eat (it's still a challenge) so I gain my weight back; and eating as many prebiotic and probiotic foods as I can to help replenish healthy, good bacteria in my gut, because I need those little guys to fight off monsters like C. diff.
So what can you do to ensure you don't get C. diff? First, be very cautious about ever going on antibiotics and if you absolutely need to, then be sure to take probiotics at the same time. Nurture the good bacteria in your gut (goodbye sugar and processed food!). And always always always wash your hands with soap and water after you use the bathroom and before you eat. Alcohol-based hand sanitizers will not kill C. Diff, so soap up and sing the ABCs while you scrub away (that's about the time it takes to really get your hands clean).
Please do all of these things, because you never know when you will be running errands in the morning and be fighting for your life that night.
{ 2 comments }